GMDSS Endorsement Renewal Process 
In one of our previous article, we talked about  GMDSS GOC Renewal Process, we got positive responses from our readers and were asked to write an article about how to do the renewal of GMDS endorsement  So, here it goes:
Why is GMDSS endorsement certificate necessary?
It is required to all the navigator for operating all GMDSS equipment on board.
If you are Holding a GMDSS endorsement certificate makes you qualified to handle emergency situations
if you are working on foreign flagged ships a GMDSS endorsement certificate is especially necessary.
In order to operate GMDSS equipment, it would need to be revalidated every five years. Once you obtain your GMDSS endorsement certificate, it would need to be revalidated every five years.
Information required for online registration
Recent Passport size photograph scanned as a jpg file in size 35mm x 35mm
Self-attested scan copy of CDC along with pages of relevant sea time entries. Make sure to scan all the pages as one pdf file. Include only relevant sea time entry pages.
A scan of your Signature
Scan copy of your old GMDSS endorsement
Scan copy of Sea time letter from your company in pdf format. If you have more than one sea time letters, make sure to scan these as one PDF file.
Scan copy of your GOC booklet (all pages) along with latest renewal page. All these pages need to be in one pdf file
Self-attested scan copy of medical fitness certificate from DG approved doctor. It is recommended that the medical is valid for the next 6 months. If there are multiple pages, scan as one pdf file.
PROCEDURE
Always use windows internet explorer or Mozilla Firefox for better resolution. Most of the government website work better on windows internet explorer.
Before proceeding to apply for GMDSS endorsement, make sure your seafarer profile is updated.
When you ready with all of the above information, go to the dgshipping website and log in to your DG shipping profile. Once logged in click on "COC, DC endorsements, GMDSS operator" link.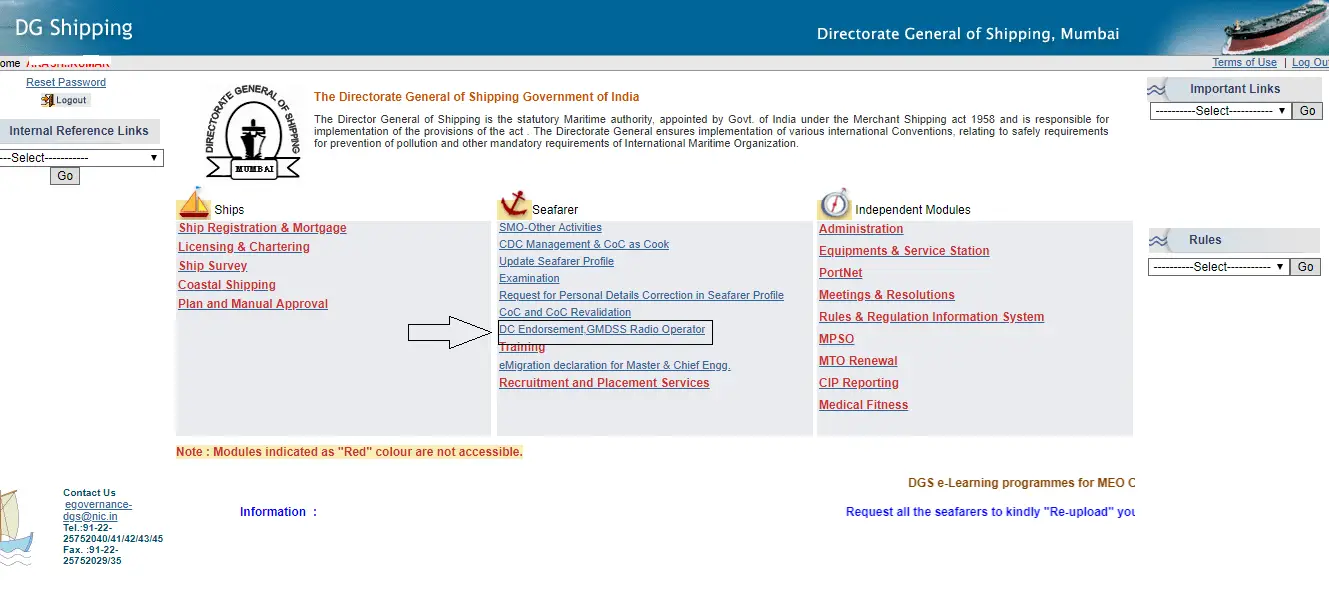 A new window will open Click on the "Application for GMDSS operator".

Once you click on the "Application for GMDSS operator".It will take you to a new window  "personal details". Fill all the data.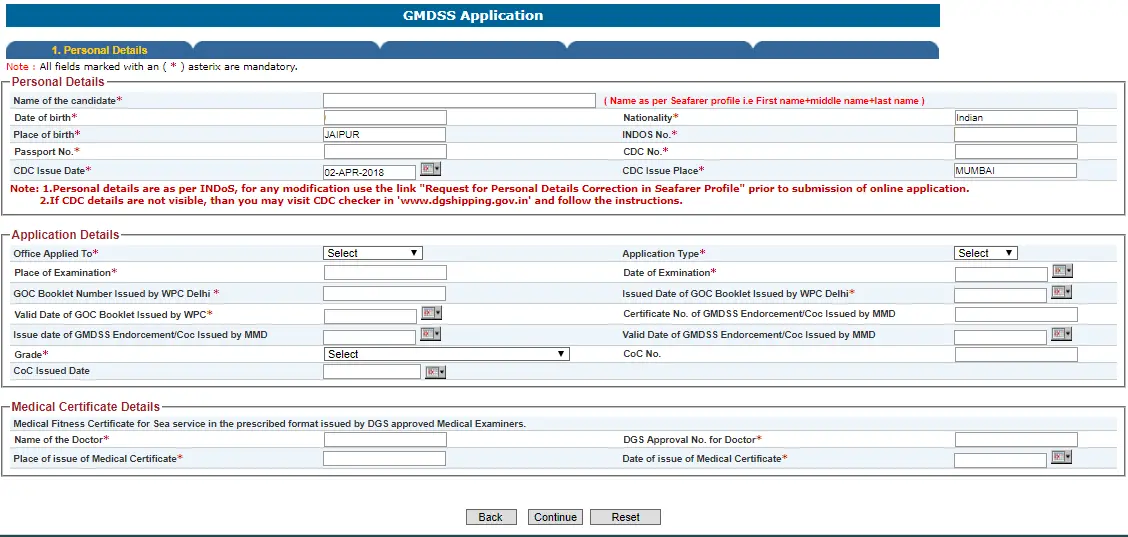 Click Continue and it will take you to "Address" tab. Fill your address correctly without any mistake, because if you choose to select delivery by post as GMDSS endorsement will be delivered on this address.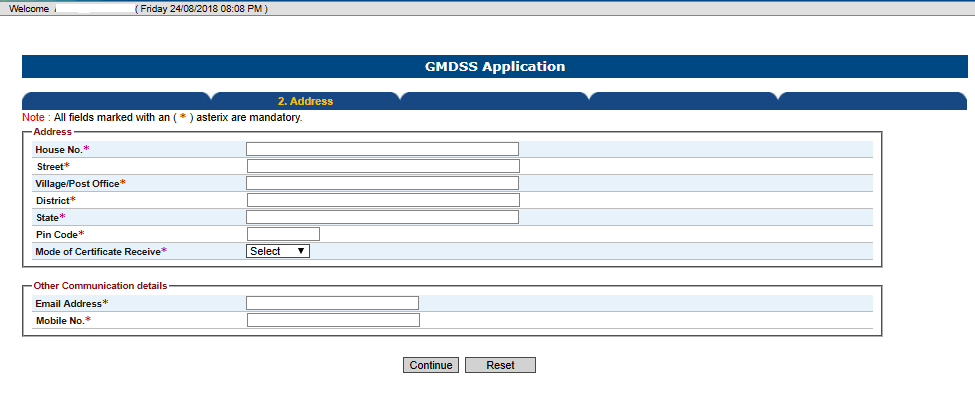 Click Continue and it will take you to Sea time tab. Fill your Sea time for the ships.minimum 1 year sea time required in 5 years.

Click Continue and it will show you a new window "Fees" for renewal.

Click Continue and it will show you the documents to attach.
Tick the "I agree" in the declaration section and then click on "Generate Application No.".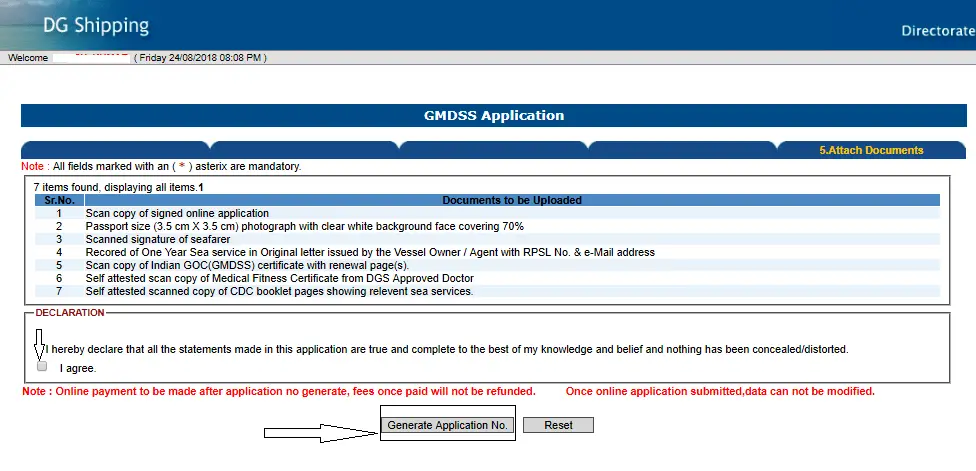 once you click on the generate application No It will show you the screen with a message that "your data has been successfully submitted".click on "Pay now" under Payment status.

you can pay from the different section as per below. Now you need to upload your documents, click on "Home" on the upper right corner, Click on "COC, DC endorsements, GMDSS operator" link and then click on "Pay CoC & CoP Fees, Upload Documents and view Status".

You can pay the fee from this section too by clicking on "pay now". you need scan copy of the application you just submitted online. For that click on "View" under "View submitted data"
Take the print out of the application and sign on the last page and then scan all the pages. always scan all the pages of this application as one pdf file. After you have all the documents scanned, click on the "upload documents" under the same screen and upload all the documents. You have now successfully applied for the GMDSS endorsement.you will get it in around 7 working days from the time it is approved.
And finally thanx for visiting our website and I hope you like the post and helps you to renew your GMDSS GOC any suggestion or difficulties please join our
forum